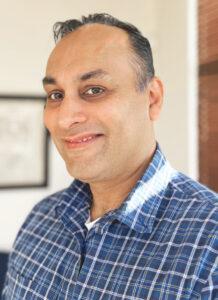 Albuquerque, NM: Aqua Membranes, the developer and manufacturer of Printer Spacer Technology® for reverse osmosis (RO) systems. Today we want to announce the appointment of Syed Shah as Chief Operat­ing Officer (COO). Syed A. Shah is an accomplished operational expert with a distinguished 25-year career in global manufacturing. He has significantly impacted diverse industries, including filtration, automotive, electronics, and professional services, where he held C-suite and top executive roles at several multi-nation­al companies, including Culligan International, Paragon Water Systems, Hubble Power Systems, and Bel Fuse Inc. His comprehensive experience in steering organizations to success on a global scale further strengthens his ability to thrive in diverse markets.
Syed's manufacturing experience fits the long-term goals of Aqua Membranes to transition from a world-class development company into a best-in-class manufacturing company. Under his leadership, Aqua Membranes aims to increase production tenfold in our facilities and with our partners. His announcement comes as Aqua Membranes sees increasing market demand for printed spacer technology.
"I have worked with Syed Shah in the past while building successful companies in the water industry. He is an exceptionally talented executive with terrific skills and leadership experience. We are excited that he has joined Aqua Membranes as COO to help change the world for the better with our innovative technology for saving water and energy." – Mike Reardon, Aqua Membranes Board of Directors.
"Our team could not be happier to add Syed as a valuable and experienced member. The need for stainable high-purity water production has never been higher, and we are already seeing demand far outstrip our supply. Syed's skill, background, and passion will be the catalyst needed for Aqua Membranes' next stage of growth." – Craig Beckman, Aqua Membranes CEO.
About Aqua Membranes:
Aqua Membranes Inc is a membrane element manufacturing company based out of Albuquerque, New Mexico, that uses its patented Printed Spacer Technology® to create space. The printed spacers replace the mesh in the element construction to improve membrane performance. This technology allows for an open design that changes how water flows through the membrane elements. This open flow path improves fouling, and productivity and saves wasted energy in the membrane element, resulting in cost savings for both CAPEX and OPEX in membrane systems. For more information, go to Aquamembranes.com.